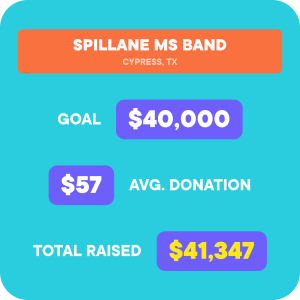 For the life of a busy Band Director, fundraising is just one of many things on their plate. Administration, teaching new musical concepts, and encouraging students are certainly a higher priority than raising money. Of course, that money is vital to the success and sustainability of the band, and therefore fundraisers remain a necessity. But what if that process could be seen not as yet another task on the to-do list, but as an opportunity to teach the kids and connect with the audience in a new way all while bringing in the resources needed to support the band?
Band Director John Barton of the Spillane Middle School Band sees WiddyUP as exactly that. John has run multiple WiddyUP fundraisers and raves to his colleagues about his experience, which he says "has been phenomenal."  Not only has the band reached their fundraising goals each time, but according to John, "it's enhancing what we are doing in the classroom." The reason for this is because each student was charged with playing their part in the upcoming concert for their WiddyUP video that was sent to donors. This meant that instead of going door to door selling products to raise money, his kids spent their valuable time practicing their instruments over and over. In other words, the time that would normally have gone to raising money was used improving their musical skills, and they still hit their goal of $40,000!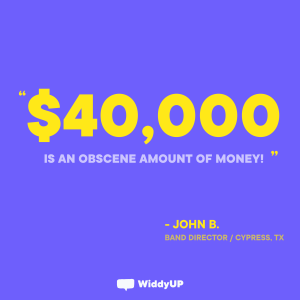 The way we see it, WiddyUP offers a win-win-win scenario.
WIN #1:The Group – Spillane was able to go over their target goal of $40,000. Referring to the huge amount of money John said, "Quite honestly it's a game-changer for us because what we're able to do for our students, we would never be able to do if we didn't have that." 
WIN #2: The Kids – Practice time is vital for young band members and every participant  got to spend a little extra time practicing their instruments in preparation for their upcoming concert. According to John "it made our students better."
WIN #3: The Donors – The connection with the donors is what John liked best of all. According to him, donors know that "with other fundraisers they are buying things that are heavily marked up" and that "not much of their money is going to the program they supported." He went on to say that this was the first fundraiser he had ever done that allowed  them "to connect music with our donors."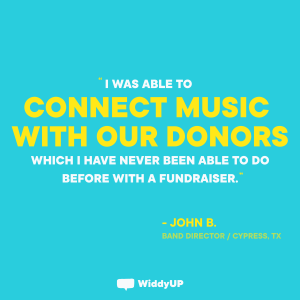 WiddyUP's fun, video fundraising platform really is great for everyone involved. Groups are able to raise the money they need, participants have the opportunity to feature their talents and donors get a unique connection with the kids they are supporting. And best of all, WiddyUP groups get 95% of everything they raise which, according to John, is "unheard of in the education world." 
Schedule your next fundraiser today to get your group the money it deserves, up your skills and connect with your audience in a whole new way.